100% Renewables Powered Australia Within A Generation?
Energy Matters
Australia's energy sector – including for transport and industry – could be fully decarbonised within just one generation according a study from Curtin University's Institute for Sustainable Futures.
The report, prepared for GetUp! and Solar Citizens, states Australia could generate all its electricity, heating and fuel needs with renewable energy by 2050.
In the shorter term, it's within the nation's capabilities to entirely phase out all coal fired power generation by 2030 and have 40% of our transport energy needs met by renewables in 2035.
Australia could save $9 billion a year on average on power sector fuel costs through rapid decarbonisation, and $11 billion a year on transport fuel costs between now and 2050 says Dr Sven Teske; lead author of the report and Research Principal at ISF.
Modeling in the report offers three scenarios: a "business as usual" approach (Reference – REF), a 65% renewables ( RE) and a 100% scenario (Advance Renewables  – ADV RE).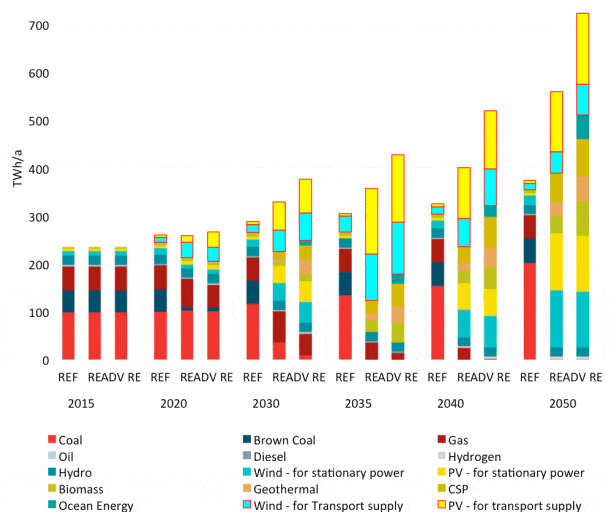 Under the latter, the installed generation capacity of renewables would reach around 174 GW in 2035, and 310 GW in 2050. The Advance Renewables Scenario sees solar PV making up 72GW of generation capacity in 2030 and 166GW in 2050.
Investment required for the Advanced Renewable scenario is around $800 billion until 2050; averaging $22 billion per year between 2015 and 2030 and $23 billion per year on average  over the whole period.
As to the future of electricity costs under the Advance Renewables scenario, it will be between 1.1c/kWh and 3.7c/kWh below those in the Reference case.
"The transition towards 100% renewable energy supply is technically and economically viable for Australia," concludes the report. "The abundant local renewable energy potentials of solar, wind, geothermal and sustainable bioenergy production exceed the current and future energy demand by an order of magnitude."
The model used in the study was created by the German Aerospace Agency. The same model was used to inform the German government's 'Energiewende' (Energy Transition) and climate mitigation scenarios for the IPCC.
The report can be viewed in full here (PDF).
The Curtin University study follows a report a couple of weeks ago from Beyond Zero Emissions on how Australia can realise its full renewable energy potential.
Have a question about our solar power products, installation services or a general inquiry about our company? 
You can contact us at http://www.empireroad.com.au/community/contact  or email us on team@empireroad.com.au
Our vision is to accelerate clean energy innovation through smart funding options to help transition economies and societies toward a clean energy future.
---
Also in Empire Road Energy
Greens policy would offer free registration and government grants to add 31,000 electric vehicles to Australian roads in five years.
Considering installing rooftop solar? Here's a look at what people need to know if they want to install a system in the Ausgrid Electricity Network area.